Quality Jerky and Customer Service
House of Jerky® not only has the best jerky, we strive to provide the best customer service too!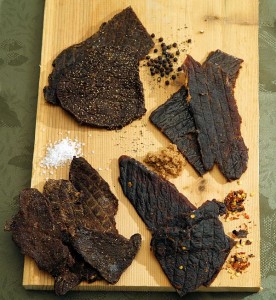 We take great pride in our Jerky Ron and I own House of Jerky. We've been selling quality jerky products since 1993, providing what we think is the best jerky in any house.
With House of Jerky you get:
Superior Jerky quality
Only naturally occurring preservatives in most meats
Vacuum sealed packaging
Whole slices of top round
Excellent flavor
Variety of flavors and meats
Free shipping and handling included
Discounts for our troops
Excellent customer service
Over 25 years ago we knew we had a great product. We started with three flavors, Natural, Teriyaki and Hot. At that time all of our business was basically roadside sales. One day while having lunch in CA, we thought why not open a store to sell our great jerky. Before the day was over we signed a lease for a 100 square foot store. Before the year was over we expanded to our present location of 800 square feet. Now we are on both sides of the Mississippi and are always looking for new locations. If you know of one, let us know.
Customer service is a priority Our Jerky shop has been online since 2000, making our jerky available to those not close to one of our store locations. I give personal attention to every online order, making sure all orders are packed and shipped. Your feedback is important to us, I read all emails and will answer any question you have. I enjoy hearing from our customers and reading your great reviews!
Thank you, Janie
Some of the People Who Recommend House of Jerky: