There's something about a delicious bite of House of Jerky that can be complimented so beautifully by the right beer.  The flavors of House of Jerky and exquisitely crafted beer seem to high five each other in your mouth.  And while we're hard pressed to find a beer we don't like, these are the specific House of Jerky varieties we'd recommend with some of the country's premier craft beer brands.
Blonde Ales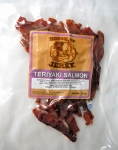 House of Jerky Teriyaki Salmon – With its teriyaki and brown sugar marinade, paired with the flavorful meat, we'd recommend mixing this fish with the Strawberry Blonde from Quaff On Brewing Company.  This tasty flavored beer is infused with fresh strawberries – a perfect compliment to the teriyaki marinade. Pick up a package of the salmon at Dawn's House of Jerky in Nashville, IN, and they'll be sure to give you directions on where to get a pint.  Big Woods Brewery is probably their recommendation.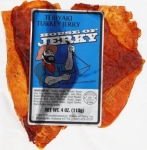 House of Jerky Teriyaki Turkey – Blondes just seem to love the sweetness of teriyaki!  The tang of the teriyaki mixed with the flavorful meat are perfectly complimented with Hangar 24's 24 Blonde Ale.  Both the beer and the jerky center on simplicity, in flavors and ingredients.  When you grab a package at Old Town Temecula House of Jerky, they will share their favorite place to grab a can, most likely Crush and Brew.
IPAs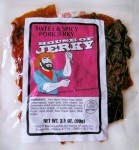 House of Jerky Sweet & Spicy Pork – What is it about the combination of sweet and spicy jerky that just calls for the perfect beer?  We found it in Great Barn Brewery with their Two Kids No Cash.  Not only is that a totally awesome name, but the smooth and juicy taste packed with citrus notes plays in harmony with the sweet and spicy pork.  On your way to Great Barn Brewery, stop by New Hope House of Jerky to grab yourself a bag (or three, we won't judge) to enjoy with your beer.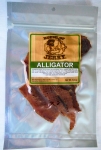 House of Jerky Alligator – You'll want to match this natural style, hand made jerky with a beer that shares those same characteristics.  And you'll find that in the IPA Good Morning Good Afternoon Goodnight from Black Narrows Brewing Co.  When the juice flavors in the beer meet with the teriyaki and citrus flavors of the alligator, you'll wonder what took you so long to bring those two together.  Don't wait!  Stop by Chincoteague Island House of Jerky before you grab that IPA.  You might want to pick up another package or two of jerky to try with the other Black Narrows beer varieties.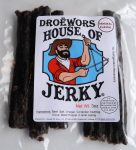 House of Jerky Droewors Original – You'll be impressed at the thin sausage like texture of the Droewors jerky, then you'll fall in love with the flavor and want to take it with you on your next outdoor adventure.  What to pair it with?  Of course, an outdoor adventure type of beer like the Easy Hike Session IPA from Adirondack Brewery.  This is a pairing you'll want to pack on endless varieties of outdoor adventures.  Before you head out on your adventure, stock up on all your jerky needs at the Adirondack House of Jerky.
Ales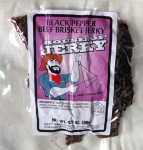 House of Jerky Black Pepper Beef Brisket – The softer, chewier brisket offers great black pepper flavor and needs a full bodied drink to accompany it.  With that in mind, you can't go wrong with the Ale of Two Cities made by Big Beach Brewing Co.  The dark stone fruit and faint smoky flavor of the beer enlivens the peppery goodness of the brisket.  This is the kind of combination you'll want to enjoy slowly and contemplatively – if you can hold out!  Start your adventure at Gulf Coast House of Jerky to grab some and enjoy this delicious mixture.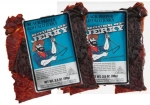 House of Jerky Black Pepper Buffalo – You'll taste the "ole west" when you bite in to a hunk of this well seasoned buffalo meat.  And then the perfect thing to wash it down?  Big Storm Brewing Co's Wavemaker Amber Ale will delight with a wave of flavor.  Stop by the Tarpon Springs House of Jerky and they'll point the way to Anclote Brew – their favorite spot to get this ale.
Porter/Stout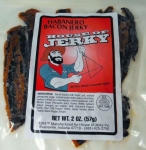 House of Jerky Habanero Bacon – What's better than bacon?  Habanero bacon of course!  And once you get to experience some of that peppery flavor, your mouth will be happy to experience some of the dark hazy brown with a creamy tan head of the Dennisville Inn Porter.  This beer from Cold Spring Brewery will leave you with hints of coffee, making you wonder if Dennisville Inn Porter and House of Jerky Habanero Bacon would make an excellent breakfast!  Just in case, stop in at Cape May's House of Jerky to prepare for tonight, or tomorrow morning!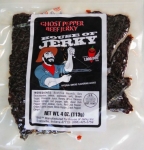 House of Jerky Ghost Pepper Beef – This jerky is made with the Ghost Chili pepper, Bhu Jolokia, one of the world's hottest chili peppers.  One bite of this and you'll be reaching for some dark creamy relief, like you get with the Murphy's Law Stout from Stable 12 Brewery.  You'll find such instant and tasty relief, you'll likely immediately reach for another bite of the ghost pepper, just to have the pleasure of washing it down with the stout.  Head over to Phoenixville House of Jerky before heading to Stable 12 to grab some of this and other jerky flavors.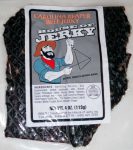 House of Jerky Carolina Reaper Beef – Carolina Reaper is officially the world's hottest pepper.  Do you dare?  Then make sure you've stopped by the Manitou Brewing Company to pair it with their Russian Imperial Stout.  The bittersweet chewiness of the stout will help soothe the burn of the Carolina Reaper – leaving you changed from the experience.  And ready to try it again.  Are you ready to take the Carolina Reaper challenge?  Before you get the stout, stop by Manitou Springs House of Jerky to grab a bag or two (can you do it?) of this sweltering jerky.